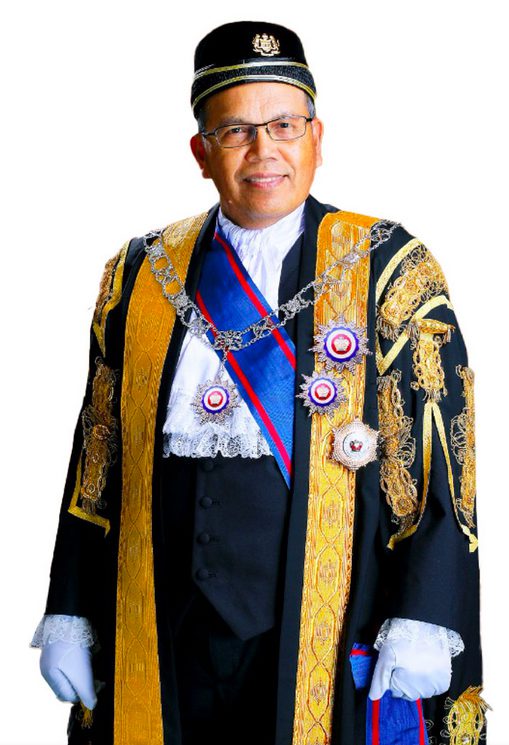 YABHG. TUN MD RAUS SHARIF CHANCELLOR
YABhg. Tun Md Raus Sharif was the 14th Chief Justice of Malaysia from 1 April 2017 until 31 July 2018.
Tun Md Raus began his legal career in 1976 as an officer in the Judicial and Legal Service. He held various posts, including Magistrate President of the Sessions Court, Deputy Public Prosecutor, and Legal Advisor to the Ministry of International Trade, the Ministry of Defence, and the Ministry of Home Affairs.
He had also served as the State Legal Advisor for Malacca and Kelantan. His last posting with the Judicial and Legal Service was as the Treasury Solicitor with the Ministry of Finance. On 1 November 1994, Tun Md Raus was appointed as a Judicial Commissioner and elevated as a High Court Judge on 12 January 1996. During his tenure as a High Court Judge, he served in Shah Alam., Muar and Penang, as well as in Kuala Lumpur Criminal Division, Civil Division (Family Court), Commercial Division and the Appellate and Special Powers Division.
Tun Md Raus was elevated to the Court of Appeal on 28 July 2006. After that, on 14 October 2009, to the Federal Court. On 12 September 2011, he was appointed President of the Court of Appeal. Tun Md Raus reached the pinnacle of his judicial career when he assumed office as the 14th Chief Justice on 1 April 2017.