Celebrate Merdeka With CityU Short Video Competition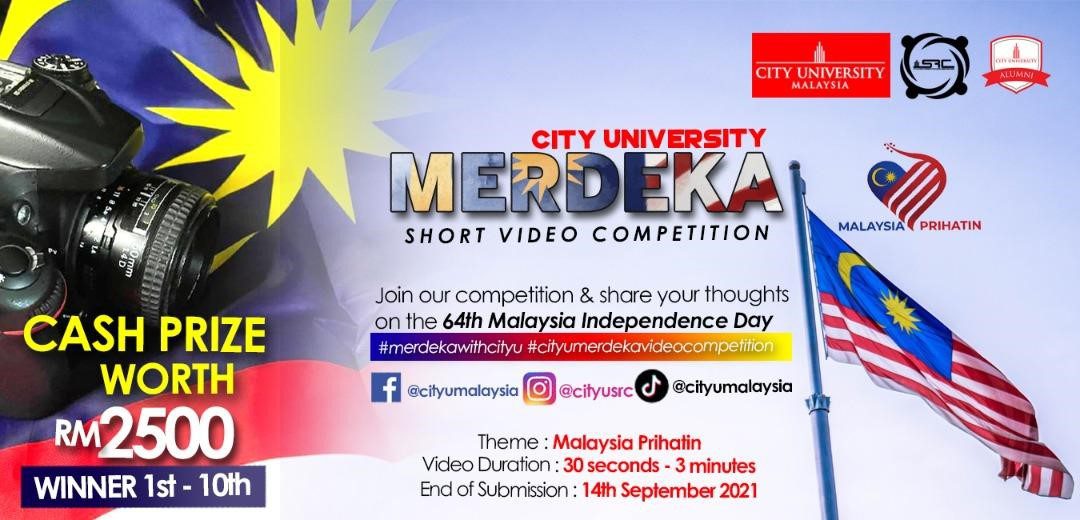 Lets Celebrate Merdeka with City U and stand a chance to win cash prize worth of RM 2,500.
City U short video contest is now open for all to join. Be creative and show your patriotism through short videos. Don't forget to have fun and fly your flag!
In conjunction with the 64th years of Malaysia Independence Day, Student Affairs Department (STAD) has team up with Student Representative Council (SRC) to organize a short video #MerdekawithCityU2021 contest open for public participation. This contest aims to create interest among youngsters to explore the opportunity within City University.
Terms & Conditions:
Participant(s) must include a video title in their content.
Duration of each video must be within 30 seconds to 3 minutes.
Language: English / Bahasa Malaysia.
The video should be creative and relevant with the theme. Any mentions of religion, political and sensitive matters are not permitted.
The audio and pictures must be clear and in highest resolution.
The video must be made public and shareable.
Participants must like and follow Facebook, Instagram and TikTok page of City University Malaysia and share this post.
All videos must be uploaded to participant's social media account (Facebook, Instagram, TikTok) and must tag City University Facebook. After the video is uploaded, participants must tag 3 friends in the comment section of the video. Participant's account must be set to public to facilitate the selection process.
Every post must include these hashtags & requirement: #MerdekawithCityU2021 #CityUMerdekaVideoCompetition with City University Malaysia logo at the end of the video
Good luck and all the best to all participant!