Energizing City University: Recap of the 'City University Zumba Attack'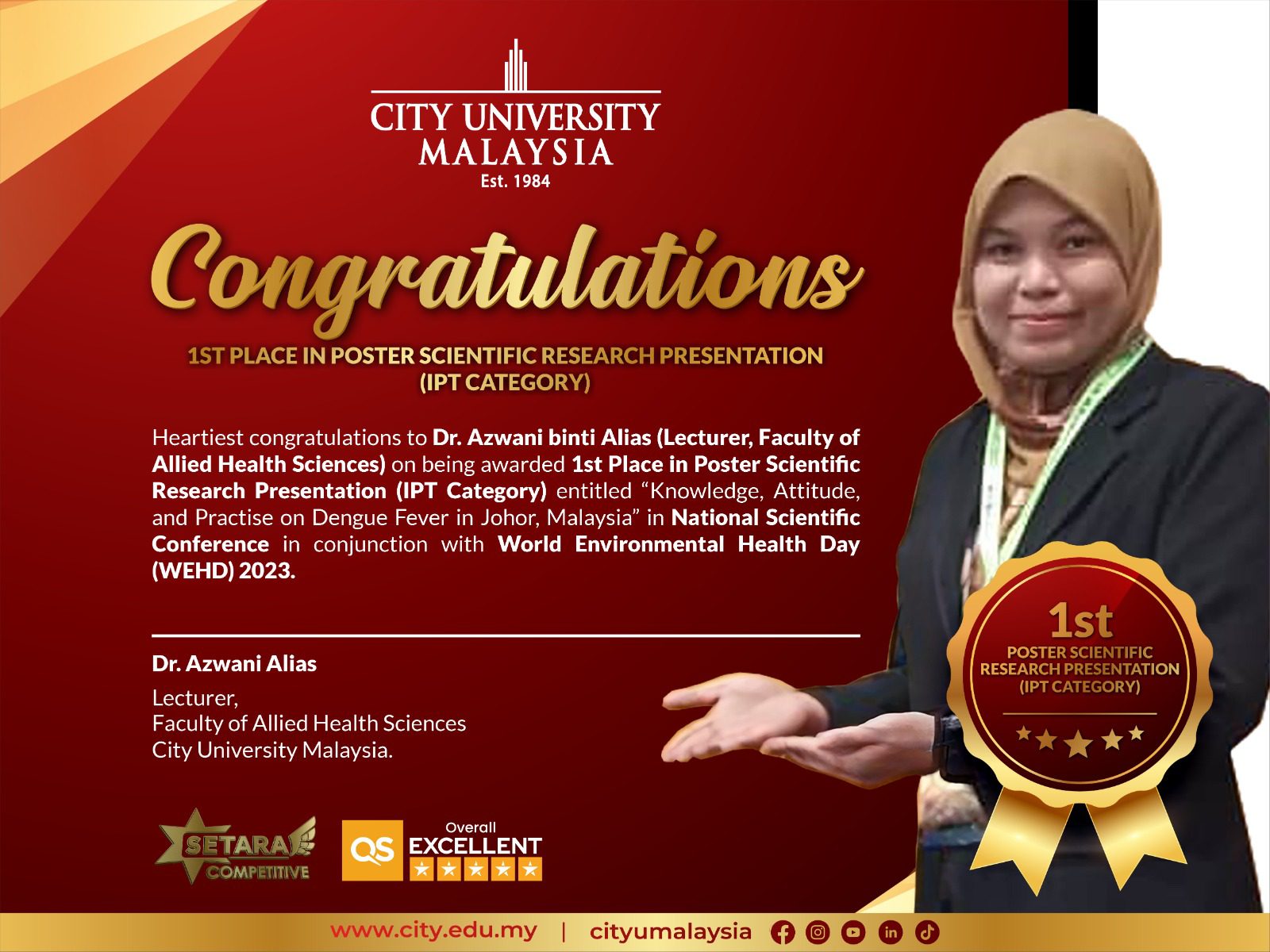 We are thrilled to announce a momentous achievement within our academic community at City University Malaysia that exemplifies our commitment to excellence in education and research. Dr. Azwani Alias, a dedicated member of our Faculty of Allied Health Sciences, has secured the 1st place in the Poster Presentation category at the Scientific Conference in Environmental Health with her research titled "Knowledge, Attitude, and Practice on Dengue Fever in Johor, Malaysia."
This prestigious recognition was awarded during the national-level event held in conjunction with World Environmental Health Day (WEHD) 2023. Dr. Alias's outstanding performance not only reflects her exceptional dedication to her field but also serves as an inspiration to our students and faculty alike.
A Remarkable Accomplishment in Environmental Health
Dr. Azwani Alias's achievement in the Scientific Conference in Environmental Health is a testament to her expertise and passion for environmental health research. Her presentation captivated the judges and showcased the innovative work being done in our academic community, particularly in understanding and addressing the critical issue of Dengue Fever in Johor, Malaysia.
Contributing to Public Health Knowledge
Her research on "Knowledge, Attitude, and Practice on Dengue Fever in Johor, Malaysia" not only contributes to the academic discourse but also has real-world implications for public health in our region. As a university committed to producing knowledge that makes a difference, Dr. Alias's work exemplifies our mission to address pressing issues in society.
Committed to Academic Excellence
At City University Malaysia, we are dedicated to nurturing talent, fostering innovation, and achieving academic excellence. Dr. Alias's remarkable accomplishment aligns perfectly with these values, and we are immensely proud to have her as part of our academic community.
Her achievement sets a high standard for our students and demonstrates our unwavering commitment to advancing knowledge in crucial fields like environmental health and public health.
Join Us in Celebrating Excellence
We invite all members of our university community, as well as academicians, industry experts, and prospective postgraduate students, to join us in celebrating Dr. Azwani Alias's outstanding achievement. Her success is a testament to the quality of education and research happening at City University Malaysia.
As we continue to strive for excellence in academia, we look forward to more moments of pride like this one and the positive impact they have on our students, faculty, and the world. Stay tuned for more updates on our academic achievements and groundbreaking research. Together, we are shaping the future of education and knowledge.
Congratulations, Dr. Azwani Alias, on this remarkable accomplishment!
To find out more about the Faculty of Allied Health Sciences programmes offered at City University, please visit the faculty page here.