Faculty of Creative Industries
Bachelor of Fashion Design (Hons)
(N/214/6/0213) (MQA/PA 9787) 05/2024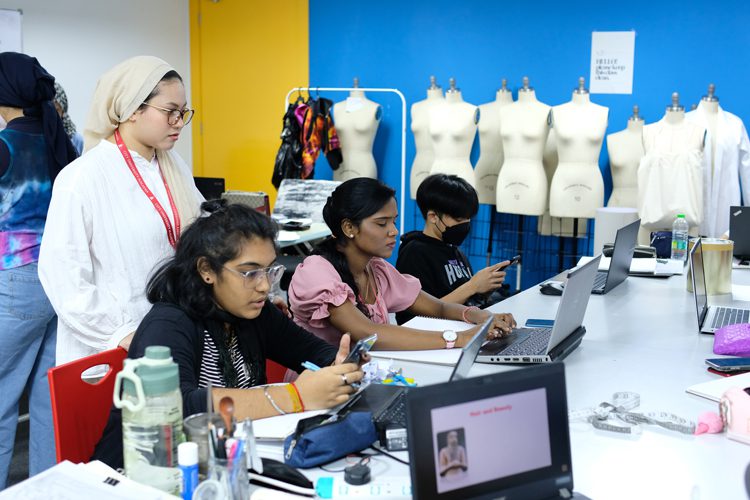 Programme Description
The Bachelor of Fashion Design (Hons) is designed to be relevant to the fashion and related industries and to the creative and skill needs of professionals working in the industry through its design-centric learning and teaching approach. It promotes life-long learning skills through project and studio-based learning pedagogies.
Contact us to find out more about the programme and the scholarships offered.
Mode: Full & Part Time
Duration: 36 months
Credit Hours: 124
Scholarships Available
Intake: Jan/Feb, May/June, Sept/Oct
Course in Petaling Jaya
Subjects offered*
Design Production
Fashion Accessories & Footwear Design
Fashion Event Management
Fashion Editing & Digital Media
Law for the Creative Industries
Fashion Design Project & Portfolio
Computer Aided For Fashion Design & Portfolio
Fashion Images & Styling
*(not limited to)
i) Matriculation/Foundation – minimum CGPA of 2.0 in relevant fields as recognized by the MOHE or its equivalent
ii) DVM / DKM / DLKM – passed in relevant fields and undergo a screening and bridging program.
iii) Diploma – minimum CGPA of 2.0 in relevant field or its equivalent.
iv) A-Levels – Grade D in two subject or its equivalent.
v) UEC – minimum of 5 B's.
vi) STPM – Grade C (GPA 2.0) in two subject or its equivalent.
vii) STAM – minimum grade of Jayyid.
viii) 12 years of schooling – passed the exit qualification in the country of origin.
AND
ix) Pass an interview OR submission of portfolio determined by the HEP as required.
For International Students
IELTS 4.0 or equivalent