Congratulations to our Architectural students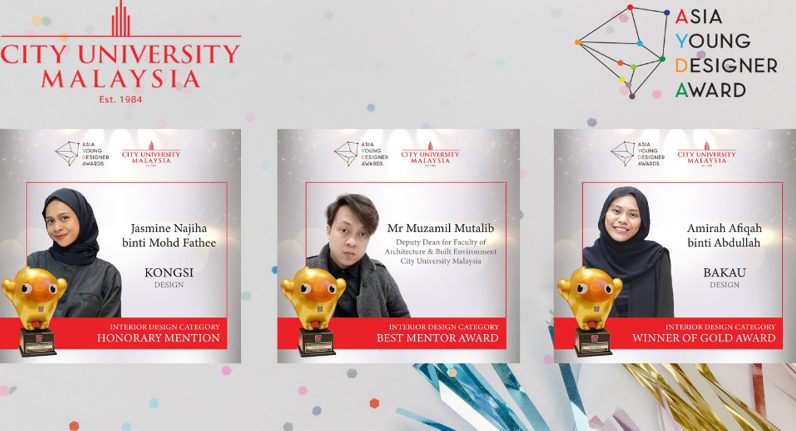 Presenting our award-winning Faculty of Architecture & Built Environment
By Muzamil Mutalib
Interior Design Department, Faculty of Architecture and Built Environment ( FoABE) lead by Mr Muzamil Mutalib is proud to announce that four of our Interior Design students has been nominated as Top 12 for the Asia Young Designer Award 2021 finalist (AYDA).
The Asia Young Designer Awards is a premier design award that aim to nurture young design talent across Asia by setting a platform to share their design ideas with professional architects and Interior Designer.
Focusing in providing solution towards various social and environmental issues, our finalist students presented four design proposals as stated below:
Amirah Afiqah bt Abdullah, Project Bakau, Mangrove Ecosystem Cultural and Research Centre
Nur Faizah Binti Sirajudeen, Project Escape, a Child Trafficking Prevention and Protection Centre
Jasmine Najiha Binti Mohd Fathee, Project Kongsi, a Refugees Sharing Shelter Centre
Andrew Charles Odigie, Project Runtuh, Cameron Highlands Landslide Disaster Centre.
Mr Muzamil breathed a huge sigh of relief when the students he nurtured went home with awards of their own. The great moment was announced during a virtual AYDA Award Ceremony on 30th December 2021. He can't help but beam with pride as these names were read out during the virtual ceremony:
Amirah Afiqah binti Abdullah, declared the winner of the Gold Award in Interior Design category.
Jasmine Najiha binti Mohd Fatheewas awarded with an honorary mention (3rd place).
This achievement would have not been possible without the great dedication from the Deputy Dean of the Architecture and Built Environment faculty, Mr Muzamil who was nominated and presented with the 'Best Mentor' award for year 2021.