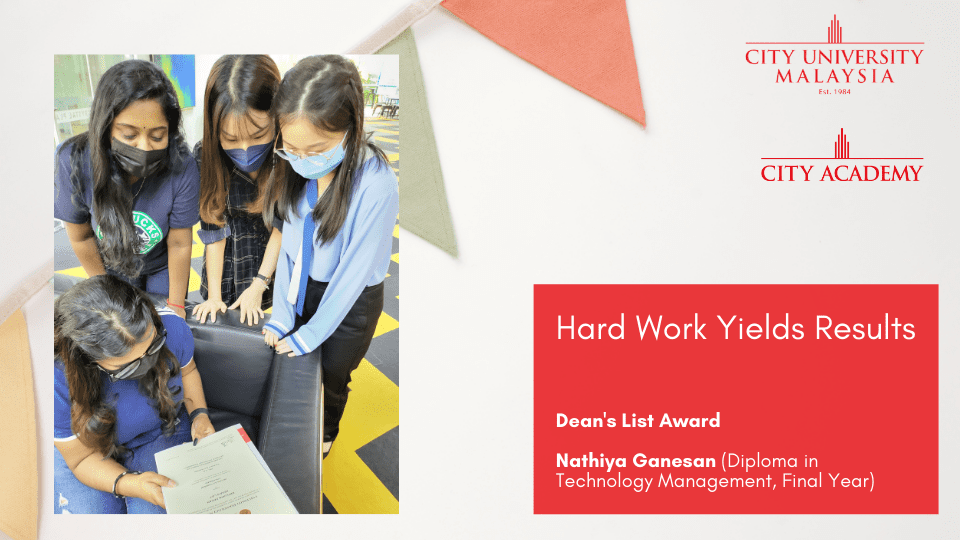 Congratulations to our student Nathiya Ganesan for obtaining a Grade Point Average (GPA) of 3.81 in her recent finals. Nathiya Ganesan joined our Diploma in Technology Management program in the year 2019. She received the Dean's list award due to her excellent academic result.
Being an active squash player, representing us in the national stage, Nathiya found it hard to balance her time between studies and squash. From having to practice for tournaments while finding the right time to catch up on her studies, it was never an easy road for Nathiya.
Nathiya has it in her heart to achieve the goals she set for herself. She prepared a fixed schedule which she adhered to strictly which has helped her tremendously in keeping up with her studies and her practices for squash.
Apart from this, Nathiya also took the bold step of stepping out of the society norm by deactivating all her social media platform. She believes strongly that social media adds no value to her life but only served as a distraction from her priorities. There were multiple attempts from family and friends convincing her otherwise but she did not succumb to peer pressure.
Nathiya's efforts did not go unrewarded when she received the results of her Finals. A smile crept across her face when she saw her achievements on that piece of paper. Nathiya breathed a huge sigh of relief as she was able to prove to herself that hard work and determination will eventually bring you success.
Now, Nathiya is only one internship away from making it into University Technologi Malaysia (UTM), which is collaborates with City Academy for the Diploma in Technology Management program.
Nathiya is very grateful for the opportunity to pursue her Degree in UTM as without this pathway, she would have not seen the opportunity to be a student in UTM – one of the top public university in Malaysia.